One of the toughest things in the academic career is an assessment that makes your heart race and hands tremble. Some of the most important test in your life that you will have to pass will be in the form of Multiple-choice questions. This type of test question has a question and 3 to 5 alternatives for you to choose from. So let us tell you more about this form of test and offer you our help.
Multiple Choice Questions Exam
Sometimes students believe that exams are the biggest evil in their lives. Many of them think it does not really matter whether you prepare for an exam or not, because in the end – it just a guessing game. However, you need to remember, that guessing is not something that depends solemnly on your luck. We are sure that you have heard a Greek word hypothesis, which is a smart way to name the guess itself. However, a good hypothesis is based on an intelligent assumption that takes into consideration all the previously gained knowledge.
Generally, all the incorrect answers within one question are called 'distraction' and are created by shifting your attention away from the correct one. If you have no idea what the correct option is, start with the elimination of the least possible options. Among those that are left, choose the one that is closer to the material you were supposed to learn.
Types of Tests
Depending on your level and subject, you may find that you can have from 2 to 4 incorrect alternatives in each task per 1 correct answer. Depending on the individual instructions, you may find that you can lose your points if you choose the wrong answer, as opposed to leaving the blank space. Sometimes, professors will give you a list of 200 questions to look at before the exam and then will give you a short test in class.
How Many Questions Does 1 Page Contain?
Here at EssaysLab.com, we count 1 page of Multiple-choice questions to be 5 questions. So if you have a test that consists of 45 questions you will need to order 9 pages. If you have a test, that consists of both multiple choice questions and open-end questions, please choose Questions-Answers in an order form.
Multiple Choice Questions Answers Sample PDF
If you are looking for some examples of work that we have done for our clients, please check our free samples section, where we upload some samples of the work we had done.
As you can see, ordering professional assistance is a simple process that will take less time than a new post on social media. One of the things that you need remembers, that our cooperation is completely confidential and you can rely on all the guarantees that are applicable to any other order placed on our website.
If you have any other questions considering your multiple-choice questions or would like our team to guide your ordering process, simply open the live chat and we will assist you in every matter.
Professional Help with Multiple Choice Questions
However, if the stakes are high and you understand that guessing is not your best option, you might need professional assistance. As an online company that offers our services to clients all over the world, we deeply understand your struggle with tests of all forms. Son on our website you can request and receive help with all major types of tests, including Online test/Quix, Multiple Choice Questions, and Questions-Answers (for a test that requires elaborate answers). We offer timely assistance within the range of timeframes between 3 hours and 11 days, to high school, college and university students. For Masters Level of writing, the shortest deadline is 8 hours, whereas Ph.D. students can order professional help with test within 12-hour deadline.
How to order
Multiple Choice Questions?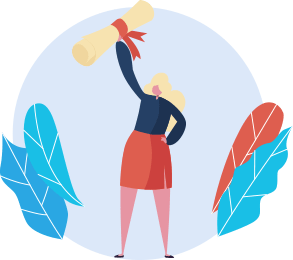 Fill in the order form, adding all the details about your Multiple Choice Questions.
1

Pay for the order and we receive a payment for it.
2

You can contact our professional support team.
3

Get your Multiple Choice Questions which will result in an excellent grade.
4
Pricing Policy at EssaysLab.com
While placing an order, you will be asked to set the number of pages. Simply divide your question by 5 and you will receive the number that equals your page count. We charge $12.99 per 5 questions (1 page) for a high school test that needs to be submitted in 11 days. The price depends on 3 basic factors: number of questions, academic level and deadline. If you would like to save more money, place your order in advance or use a discount code (check the home page for any current promo codes or use the one you may have received via e-mail).
How to Get Multiple Choice Questions Help
If you would like to receive professional assistance from EssaysLab.com, the only thing you will have to do is place your order. Unlike many other companies, we tried to make the ordering process simple and fast, so you will not have to waste your time.
Place your order. Fill in the section with contact information. Please, specify your phone number and e-mail (just in case we will need to contact you about notification on the order completion. Please remember that your e-mail address will be used as both your authentication on our website and your discount code (as a part of our lifetime discount program).
Describe an order you need. Please, specify the subject you need our help in, the topic (if you are taking a test that is dedicated to the certain topic), add the number of pages and opt for additional services if needed.
Pay for your order. As soon as you provide the payment, we will assign the most experienced and appropriate expert to work on your order (based on the instructions we receive from you).
After the deadline is over, you will receive a document with all the answers to your multiple-choice questions.
Upon delivery, you will be able to rate our cooperation and provide us with the feedback.
You will be able to stay in touch with both your writer and support team throughout the whole process. For contacting your writer, open your Membership Area and click the Messages icon under the order ID. You can reach our support team via live chat, e-mail or by phone.
You May Find These Useful: