Every piece of writing is supposed to have an introduction and conclusion, and dissertation is no exception from this rule. A successful introduction not only introduces your research but also is capable of much more. It draws readers' attention from the first paragraph, presents your ideas the best possible way and sets the ground for further research. Writing a dissertation introduction was never an easy task since you not only have to combine a lot of elements into the relatively small chapter but also explain the aim of your research, emphasize key points and enumerate all other chapters.
A dissertation introduction has to be self-explanatory, yet not repeat the content of other chapters. It is important to present and explain every component of the work, emphasizing the importance of your research. You also have to present the finding and ideas that were expressed before your research and how your research is different. While writing a dissertation introduction, you need to include objectives (explain the need for research) and in what ways it is relevant to the topic of your dissertation.
Dissertation Introduction Length
The length of each chapter of the dissertation is calculated with regards to the overall length of your dissertation. Many scholars suggest you keep your introduction within 5% of your total word count. It means that if your dissertation is 25 000 words, your introduction should be approximately 1200 words.
Despite its name, an introductory chapter should be written after you have completed your research and have the most parts of your paper written. You can create a plan that will serve as a structure for both this chapter and paper in general, however, give yourself time to work on it later. You may find yourself editing and rewriting this chapter for several times. And that is when you may well think of professional help from an expert.
Why Should You Order Dissertation Introduction from EssaysLab.com

0
Professional writers

0
Happy clients

0
Delivered orders

0
Writers online now
Our company employs only highly qualified experts that are capable of producing thesis and dissertation writing of an impeccable quality, work well under pressure and possess excellent knowledge of academic English and formatting styles.
We have also created a safe environment for you to share ideas and receive professional assistance with your academic writing. We also understand that sometime, the order you need will have the highest level of customization and we are ready to deliver such papers. And your dissertation introduction won't come with a heavy price tag attached. EssaysLab.com has a reasonable pricing policy and you can get a discount (if you are a first-time client or there are promotional campaigns running)
Moreover, every paper is sent to an editor and quality assurance department to compare it to initial instructions and provide final polishing.
How to Order a Dissertation Introduction?
Fill in the order form, adding all the details about your Dissertation Introduction.
Pay for the order and we receive a payment for it.
You can contact our professional support team.
Get your Dissertation Introduction which will result in an excellent grade.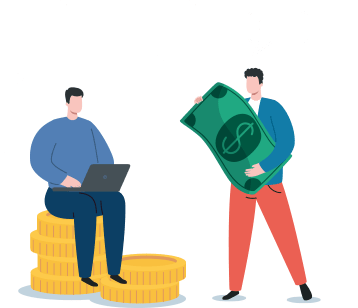 Order Dissertation Introduction from EssaysLab.com
Once you decide to place a request for professional dissertation writing at EssaysLab.com you will have to fill in the order form. You can find the link in the navigation menu or use the form below. When you open the page, you will see several blocks of the form:
provide your contact information. We ask our clients to provide contact information to stay updated on the status of your order.
describe the order. You will see several fields you need to fill in, specifying the subject, topic of your dissertation, type of order (which in your case is dissertation introduction), timeframe (from 60 days to 48 hours), your academic level (we offer Undergraduate, Masters, and Ph.D. for dissertation introduction), spacing.
choose the number of pages. If you know the length of your introduction in words, simply divide that number by 300 to get the number of pages.
upload files and provide instruction. the next step is to upload any materials you have or would like to be used and add the description of your order.
choose additional services. Among basic services related to dissertation writing are: draft (one page that is sent to you after 50% of the deadline), summary, extended revision (for order under 20 pages) and progressive delivery for large order over 20 pages (depending on the deadline, you will be able to receive your paper in parts). You can also opt for VIP services.
check the requirements. The second step of the form allows you to review everything before submitting an order.
provide the payment. Once you are redirected to the payment page, you can choose from the number of option. You can pay using your credit card, PayPal or other alternatives.
communicate with your writer. You will be able to stay in touch with your writer through the whole process using the messaging system in your Membership area. We forbid communication between writer and client outside our website due to possible privacy problems it may cause. If you need urgent help, feel free to use live chat to get ahold of our Customer Support Team.
download the completed dissertation introduction. Once the deadline is over, you will be able to get the paper from your profile or download a copy that we will send to your e-mail.
Try our Top 10 writers
BENEFIT from the incredible opportunity at a very reasonable PRICE Order only for $10.95



Confidentiality and Privacy, Plagiarism Policy
We understand that undergraduate and postgraduate students have their academic careers ahead, so in order to protect them; we have created a complex system that allows us to detect and remove various forms of plagiarism. The paper you will get will be completely free of plagiarism. You may order a full plagiarism PDF report while placing the order or afterward by contacting our Customer Support Team.
As an online company, we take extra precautions in protecting identities and personal information of our clients. Your sensitive data will not be shared with any third parties in any case.
Revision Policy for Dissertation Introduction
If you order is smaller than 20 pages, you will have 48 days for free revision. In case your order exceeds 20 pages, you are entitled to have 30 days to apply for free revision. Please note, that revision is performed by the same writer and can be done if the revision request does not contradict initial requirements.
As you can see, EssaysLab.com is capable of producing not only high-quality dissertation introductions but also can offer you help in writing the whole dissertation. Place your order now to receive personalized help with dissertation writing delivered straight to your inbox.
You May Find These Useful:
Dissertation Methodology Dissertation Literature Review Dissertation Hypothesis Dissertation Conclusion