What Makes Good Dialectic Essays?
If you are asked to write a dialectic essay, the process will require you to find a controversial topic for exploration. Because of this, it can help to begin by looking through articles in journals, newspapers, and on the Internet. This will enable you to collect sufficient information on the topic you intend to discuss. Remember to cite all materials properly and pay careful attention to the academic style or format you have been instructed to or chosen to use.
It is possible you will find quite a bit of helpful information on the Internet about writing this type of essay. One of the most important factors is to choose reliable and credible websites. Additionally or alternatively, you are welcome to use the instructions provided below.
The Structure of Your Essay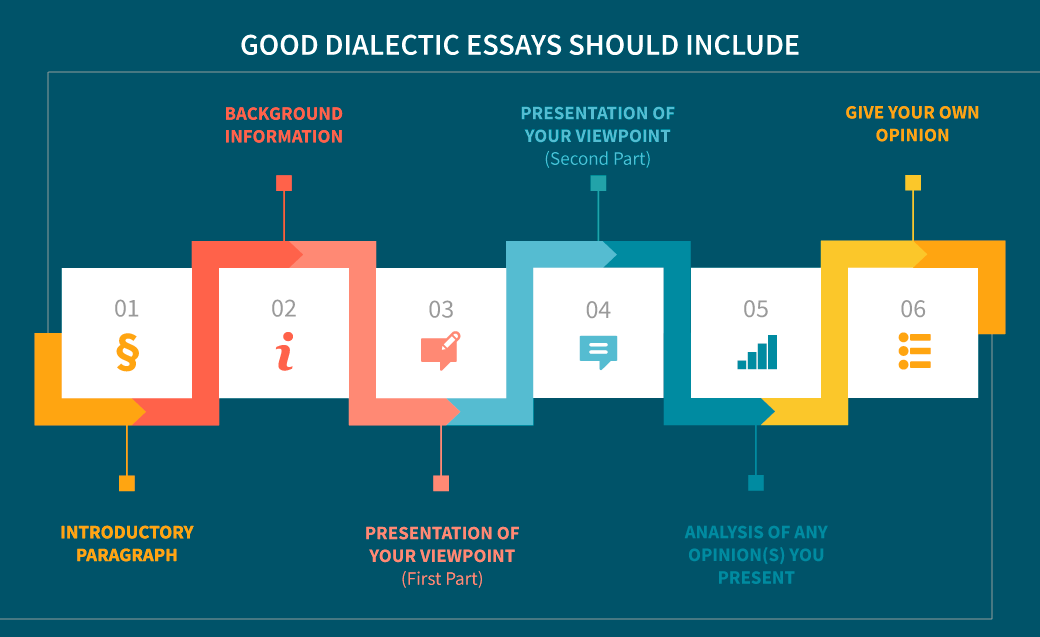 Introductory Paragraph
The introduction paragraph should be used to introduce the topic of your essay. Usually, this includes:
An overview of the topic you will be discussing in your essay
A presentation of the various opinions on the topic you will be discussing.
The main point that demonstrates why it is important to explore the particular topic you will be discussing.
Background Information
Provide your readers with any background information you think will be useful.
Presentation of Your Viewpoint (First Part)
Identify the main point or idea of your paper and focus on this. You should use this section to provide as much powerful and reliable evidence as possible. This means presenting an opinion you will go on to support. Say why you believe your opinion is objective and valid. Provide information on any experts who agree with your chosen viewpoint.
Presentation of Your Viewpoint (Second Part)
You should use this section to examine the main point or idea of the work you are exploring. Give a further opinion on the topic you are examining and make reference to others who support this. Offer a few well-reasoned arguments in support of this point of view.
Analysis of Any Opinion(s) You Present
Mention any opposing viewpoints and say why you think these are not valid. Analyze any arguments that support or oppose your viewpoint.
Give Your Own Opinion
Give your own opinion on the topic. Towards the end, present any conclusion(s) you arrive at. Why have you taken a particular stance? Set out solid arguments to support your choice.
Do not overlook the importance of including any historical facts or information that is relevant to your topic's development.
Pay attention to spelling, punctuation, and grammar. Try to make your essay or paper as gripping as possible. Establish whether your readers already know anything about the matter you are examining.
It is essential to double-check the points listed below when writing a dialectic essay:
Is the information you provided correct?
Is your chosen topic sufficiently important or significant?
Are people likely to act in the exact same manner in different circumstances or situations?
Is it important that everyone be treated equally?
You may find these useful:
Buy Capstone Project Write a Response Paper Thesis Writing Services Buy Answer Questions