Questionnaires are sets of questions organizations may ask their clients to respond to. Some inquiries might ask for a definite response (such as a "Yes" or a "No"), while others might require clients to provide a detailed answer, be creative, or tell a story.
How to Create a Questionnaire: Basics
When designing questions, make sure that they are free from prejudice. For example, do not ask about merchandise that is currently under development. Instead, organizations should strive to extract information about their clients' needs and desires, as well as about the particular characteristics of products people are fond of in order to be better prepared to satisfy clients.
A questionnaire may prove to be an even more efficient tool than an interview. First, questionnaires tend to be less expensive to perform since there is no need to hire and train additional staff. Second, besides being cost-efficient, questionnaires are also a time-efficient method of collecting data. Unlike interviews, questionnaires do not require scheduling and the presence of both parties in a certain physical location.
Finally, a huge organization would likely find it challenging to interview a considerable amount of its clientele. With the help of online questionnaires, however, an organization may obtain responses to the desired questions from a significant percentage of its clients.
One of the strengths of a questionnaire is that this method of collecting information allows penetrating different population groups. To be able to please customers and capture a vast market share, organizations should stay in touch with both new and loyal clients and constantly try to extract valuable information about the changing tastes and views of people who could buy their products.
Survey Vs Questionnaire
Understanding the distinction between questionnaires and surveys is crucial for designing an effective questionnaire. Although people may mean a questionnaire when referring to a survey and vice versa, the aforementioned notions are not identical.
To clearly understand the survey vs questionnaire issue, one needs to keep in mind that a survey is a broader notion. A survey is usually a study that has concrete objectives and plans to utilize different approaches and methods (one of which might be a questionnaire) to study a particular problem.
A questionnaire, in its turn, only represents a set of questions the members of the target audience are supposed to answer.
If you feel you are not able to create a quality questionnaire, you can buy questionnaire writing services on our website and receive a questionnaire designed by experts that will meet all your needs.
How to Order
Questionnaire?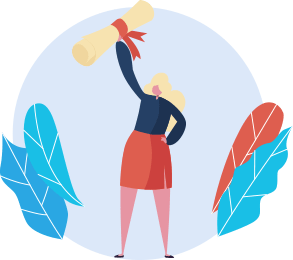 Fill in the order form, adding all the details about your Questionnaire.
1

Pay for the order and we receive a payment for it.
2

You can contact our professional support team.
3

Get your Questionnaire which will result in an excellent grade.
4
Questionnaire Writing Tips
The following questionnaire writing tips may teach you how to create a questionnaire that would allow to collect the desired data.
Teamwork. Treat clients as partners when composing questions. Such an attitude towards respondents would allow organizations to establish a strong bond with clients and to better understand their needs and opinions.
Simplicity. There is no need to design overly complicated questions. Potential participants should be able to perfectly understand questions and to answer them without much effort. People usually provide more sincere answers when they can answer questions quickly and briefly.
Delivery. It is recommended to distribute questions via different media. Sending questionnaires using postal services might prove to be relatively cheap; however, it may take much time for answers to arrive. Distributing questionnaires in person might require considerable resources; at the same time, such a method may also garner good results. Online questionnaires do not require significant resources; on the other hand, they might be not reliable. Over-the-phone questionnaires, while not among the cheapest methods, are believed to be quite efficient at extracting the required information.
Persistence. In order to receive reliable answers, refer to the same issues multiple times in the course of one questionnaire. Such an approach may help to retrieve more elaborate and honest answers to particular questions and to exclude prejudice.
Selectivity. In order to receive responses only from the members of the main target audience and not waste the time of those people whose answers do not matter to an organization, it is necessary to properly structure the first few questions. That way, only those who care about the topic of a questionnaire, and, thus, those whose responses are valuable for an organization, would continue answering questions.
Testing. In order to find out whether a questionnaire is designed in an appropriate manner, one could send it to a few potential respondents and observe results. Such an experiment could provide valuable insight regarding how a questionnaire may be improved to make it more efficient.
Composing an efficient questionnaire may allow an organization to successfully obtain essential information.
Questionnaire Writing Strategies
The following questionnaire writing strategies may help design a proper questionnaire.
Understanding potential respondents: Be sure to utilize relevant vocabulary. For instance, when designing a questionnaire for IT specialists, one may assume respondents are familiar with particular computer terms. However, when trying to reach students, do not utilize overly specific terms and expressions. In case a questionnaire is supposed to target a vast audience, do not design complicated questions.
Focusing on the main idea: Concentrate on specific issues instead of trying to obtain answers regarding different problems. Simple answers will provide more reliable and truthful answers.
Eliminating prejudice: Keep in mind that honest answers that demonstrate the participants' true opinions are more important than responses people have been guided to give. Consequently, to receive honest answers, researchers need not to design ambiguous questions.
Questionnaires: Helpful Online Advice and Sample
To compose a quality questionnaire, it is recommended to check available examples of surveys and try to answer the following questions:
What is the main objective of questionnaire?
What information do I have to obtain?
What methods of interpreting the collected information will I use?
What variables should I concentrate on when designing questions?
Find Out Our Free Questionnaire Sample
Issues to Avoid when Designing Survey Questions
Leadings questions hinder the provision of sincere and honest answers. Instead, this type of questions manipulates respondents and makes them answer questions the way researchers want them to.
Beware assuming that all participants are completely aware of the topic being discussed in a questionnaire. Therefore, in order to obtain intelligible answers, it is essential to supply respondents with relevant data.
Try not to abuse the usage of technical vocabulary. That way, participants will not be forced to waste time and energy checking the meaning of certain words.
Do not confuse participants by including multiple questions in a single question entry. Such questions may hinder participants to clearly answer the main questions.
Survey Questions: Assistance and Advice
We would be pleased to know that the information provided above helped you learn how to create a questionnaire. However, in case you require additional aid writing survey questionnaire, we are ready to assist you. All you have to do is use the services of our experts, who can design questionnaires that will allow you to get the answers you require.
You May Find These Useful: